Panel: How do data centers contribute to a green economy?
NDC-GARBE

17/06/2022

On June 1, 2022, the first conference organized by the Climate Neutral Data Center Pact (CNDCP) took place, during which the technical, regulatory, and educational aspects required to deliver climate-neutral data centers were explored.

The event opened with a presentation by Claudia Canevari (Head of Unit, DG ENER, European Commission) and Manuel Mateo Goyet (Deputy Head of Unit, DG CNECT, European Commission), followed by a panel discussion.

Among the invited experts was our Herbert Radlinger, VP Projects and Solutions at NDC-GARBE. He emphasized how actions taken today will impact the environmental performance of the digital economy for decades to come and brought attention to the role of data center construction and embodied carbon.

The recording of the event is available, watch it here: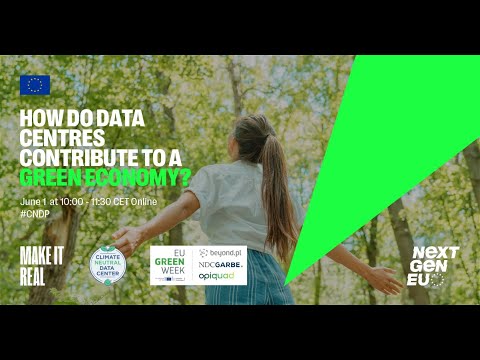 PGRpdiBjbGFzcz0iX2JybGJzLWZsdWlkLXdpZHRoLXZpZGVvLXdyYXBwZXIiPjxpZnJhbWUgdGl0bGU9IkNORENQIC0gSG93IGRvIGRhdGEgY2VudHJlcyBjb250cmlidXRlIHRvIGEgZ3JlZW4gZWNvbm9teT8iIHdpZHRoPSI1MDAiIGhlaWdodD0iMjgxIiBzcmM9Imh0dHBzOi8vd3d3LnlvdXR1YmUtbm9jb29raWUuY29tL2VtYmVkL3ZhcUQ2R2lWUGlFP2ZlYXR1cmU9b2VtYmVkIiBmcmFtZWJvcmRlcj0iMCIgYWxsb3c9ImFjY2VsZXJvbWV0ZXI7IGF1dG9wbGF5OyBjbGlwYm9hcmQtd3JpdGU7IGVuY3J5cHRlZC1tZWRpYTsgZ3lyb3Njb3BlOyBwaWN0dXJlLWluLXBpY3R1cmU7IHdlYi1zaGFyZSIgYWxsb3dmdWxsc2NyZWVuPjwvaWZyYW1lPjwvZGl2Pg==
Disclaimer: The panel discussion included Herbert Radlinger, who is now Managing Director at NDC-GARBE Data Centers Europe.