How cities and municipalities can benefit from data centers
NDC-GARBE

30/06/2023

Data centers are the backbone of our Internet economy and digitalization. They aggregate and process data, providing it for a variety of cloud services and digital applications that support and enhance our work and lives. Cities and municipalities can also benefit in multiple ways from the establishment of a data center:

Digital Infrastructure with Low Latency

A data center in the region comes with a strong connection to the nationwide fiber optic network. This also opens up a wide range of digital applications and low latency for nearby businesses. These conditions are essential for automation, virtualization, and artificial intelligence, enabling industries and businesses to optimize and scale their processes, thereby promoting their growth.

Balancing Power mitigates Local Grid Fluctuations

Geopolitical factors have led to a reduction in the power supply. Therefore, it is advisable to collaborate with partners who offer renewable energy and alternative solutions. Additionally, the energy storage capabilities of data centers have the potential to relieve the public power grid through balancing power of the grid operator, to temporarily smooth out critical load curves and to prevent power outages.

Redevelopment of Brownfield Sites

The dismantling, refurbishment, or repurposing of former industrial sites, some of which may be partially contaminated, brings new life, future-oriented business models, and employment opportunities to previously unused locations. Furthermore, this so-called brownfield approach is sustainable as it involves repurposing urban brownfields and addressing municipal pain points instead of sealing new areas.

Waste Heat Recovery

By potentially offering waste heat, data centers can provide energy-efficient value not only for local industry but also for municipal and agricultural facilities, residential buildings, sports halls, public swimming pools, as well as greenhouses and aquaculture. This helps reduce energy consumption and CO2 emissions. To achieve this, it is essential to incorporate data center infrastructure into municipal urban and heat demand planning in a timely manner.

Fiber & Energy Connectivity

A nearby data center improves the digital and energy infrastructure in the region. It serves as the foundation for the Internet of Things, artificial intelligence, and machine learning, which are crucial for the transformation of mobility and the energy transition. This benefits local businesses, schools, universities, and attracts new digital companies. Undoubtedly, it also creates jobs for local and regional suppliers and service providers for the data centers.

To harness the mentioned advantages, an appropriate data center location requires five things:
Coordinated city and regional planning
Designated locations for data centers
Completed heat demand planning
Low-caloric district heating network
Sufficient power availability
Forward-thinking data center developers, therefore, collaborate with cities and municipalities from the beginning to consider all relevant aspects in a timely manner and work together to achieve the best outcome for both sides.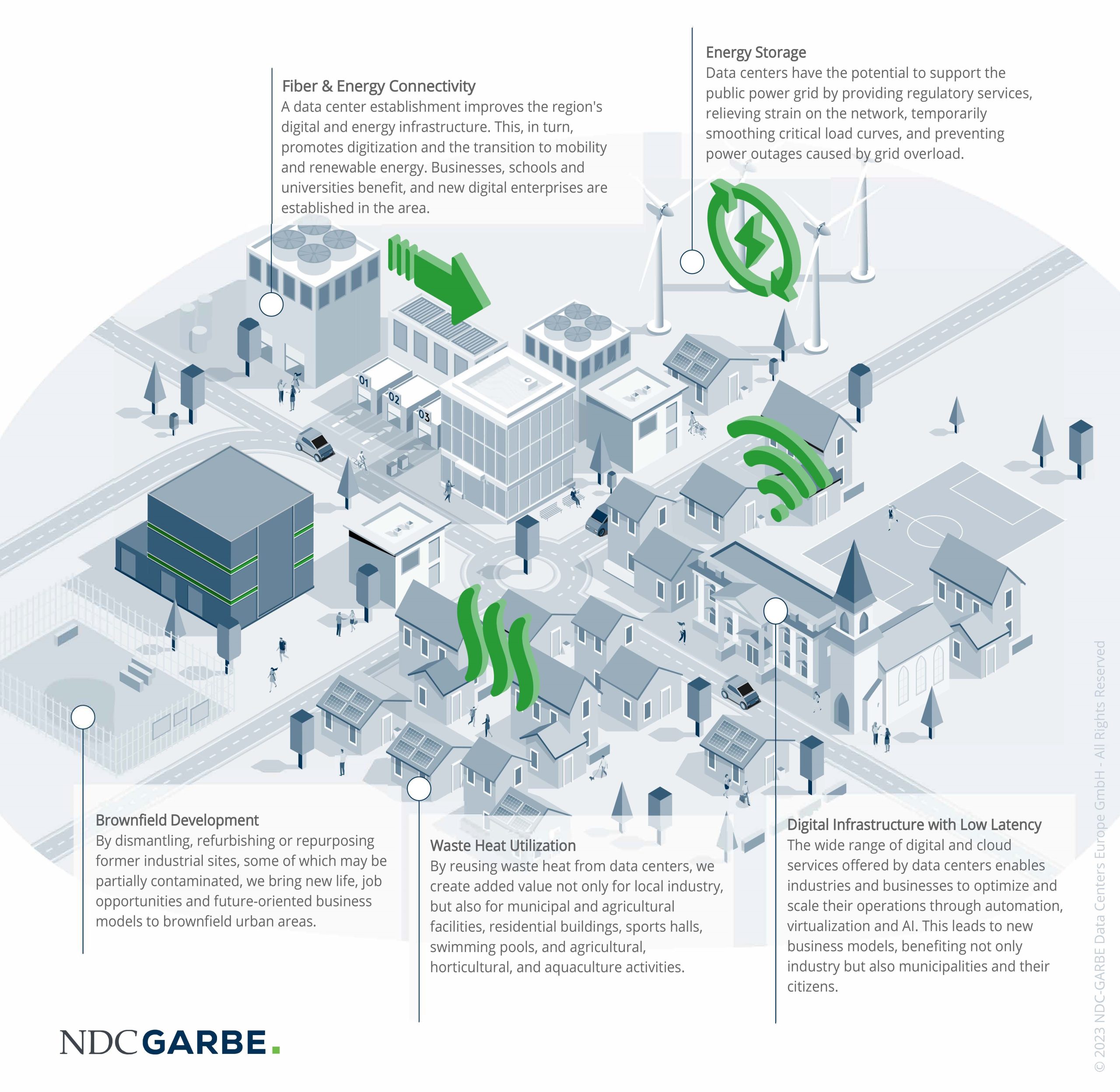 Learn more about our sustainability commitment and ESG Strategy here.